1st Soprano – Elizabeth Woods
Elizabeth is a Music Teacher. Originally from Huddersfield but now living in Durham with husband Alan and 3 sons: Matthew, Jonathan and Harry. She has been singing with The Mastersingers since she was just 16, after the death of her mother (and Mastersingers 1st Soprano predecessor) Catharine Simmons. "The Mastersingers really is extended family to me", says Elizabeth, "My father, Alan Simmons, was the founder of the group, my brother Robin is the bassist, and I met my husband, ex-Mastersinger Alan Woods through the group". Elizabeth's favourite Mastersingers tracks would be anything by Alan Woods (there may be a bit of bias there) and the song "Harry," now that she has a little Harry of her own. Her main musical influences would have to be her parents, and her favourite (non-related) composers: Gershwin, Sibelius and Vaughan Williams. Elizabeth says, "There are many concerts which stay in my memory: all the concerts we give at my "home" church at Stones, Ripponden are very close to my heart, but few experiences can match the magic of singing in the hillside church in Puivert in the south of France."
---
2nd Soprano – Joanne Smith
Joanne (Jo) has been the 2nd soprano of Mastersingers for the last 20 years. She lives in Whitchurch, Shropshire, with her family, where singing plays a big part of daily life as she leads 3 children's choirs and is a primary teacher. She calls Mastersingers her 'other' family; "I am so proud of everything we have done together, but particularly the recordings at Abbey Road, they were very special.
A concert highlight was at Huddersfield Town Hall in 1999, but our concerts on our trips to France were also very memorable. Jo's personal influences are jazz and the 'crooners'; she loves the voices, the rhythms and the harmonies. She finds it very hard to pick a favourite Mastersingers track, "But I do love the harmonies in numbers, such as 'The Way We Were' and 'Three Times a Lady'. I also love our medleys, like 'Cole Porter', 'Carpenters' and 'Back to the 60s'. Our girls' numbers are also particular favourites. It has been a privilege to sing with this amazing group for so long!"
---
1st Alto – Judi Sims
Judi lives in West Yorkshire but is a Derbyshire girl at heart and has sung with The Mastersingers since 1993. She is a music teacher, directs her own choir and various instrumental groups. Her favourite Mastersingers track is 'Swing Low' and her best concert was singing in Heaton Park Manchester on stage with The Mastersingers in the hook up to the Last Night of the Proms from the Royal Albert Hall. Judi studied Music, Drama and Dance at Bretton Hall in the 1970's, and that wonderful experience started her out on her musical journey. Being in Mastersingers is just fabulous!
---
2nd Alto – Sue Christie
SUE has been in Mastersingers for more years than she can actually remember. She was invited to join them by its founder, Alan Simmons, back in the 70's when she was a music teacher in Huddersfield. Since that time Sue has been Administrator of the National Youth Choir until 1990, a member Huddersfield Choral Society and, since 1993 been MD of her beloved Millhouse Green Male Voice Choir (near Sheffield). Sue has a jazz musician son and a daughter who is an actor currently starring on Broadway (2013). Sue loves the variety of music covered by The Mastersingers – particularly the close harmony pieces, early Church music and anything by Alan Woods.
1st Tenor – Roger Betterton

Roger joined The Mastersingers from National Youth and Sheffield Cathedral Choirs. He is now a deputy Lay-Clerk at Ripon and York Minster, living in Sheffield and York. Roger loves the opportunity to sing in completely different styles with The Mastersingers. Some of his favourite pieces would be Three Times a Lady, Harry, I got Rhythm, Sing Agreeably of Love, Bohemian Rhapsody…. favourite Mastersingers concert? " Difficult to beat the French concert near Carcassonne, watching the sun set on the mountain through the Church door", says Roger, – "C'etait magnifique ~ Mostly though it's all about singing with a wonderful bunch of mates!"
---
1st Tenor – Michael Beaney (Michael 2)
Michael has been singing since he was a child, starting in the local church choir in Chester-le-Street. He has been a member of Durham County Youth Choir, The Argus Singers in Durham, Close Friends, a male voice quartet and now The Mastersingers. He is also a tenor soloist and has performed throughout the North East making several appearances on local TV and radio. He went to a Mastersingers concert in February 2012 and realised they were a tenor short. He plucked up the courage (heavily encouraged by his wife!!) to ask if he could join and was told he could come along and have a trial for a couple of months, "Thankfully no one has asked me to leave yet" he says, "I am honoured and privileged to be a member of such a great group, singing with The Mastersingers is an absolute delight." Favourite songs – The medleys, Carpenters, Back to the 60's and Cole Porter.
---
2nd Tenor – Michael Benn (Michael 1)
Michael has been involved with singing in choirs since the age of 7. He lives in Huddersfield and works for a Local Authority dealing with Schools' Finance. He sings in almost as many choirs as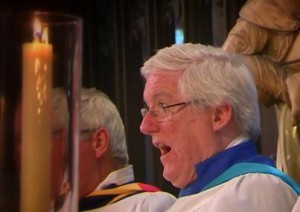 there are days of week! These include Wakefield Cathedral Choir, Huddersfield Choral and of course The Mastersingers. He has been involved with the group for a few years now, "My favourite Mastersingers track is 'The Voice' from the 'Here to Stay' CD."
---
Co-Director, 1st Bass/Baritone – Rob Wilding
Rob is from Bolton and has sung Baritone in The Mastersingers since 1992. He is now retired from teaching Music and says he is looking forward more than ever to making music with this wonderful bunch of people. Highlights have been on the three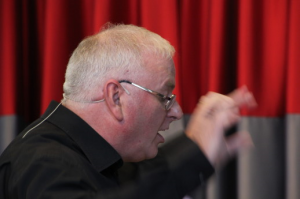 mini-tours of France in the last 15 years where The Mastersingers enjoyed very enthusiastic audiences and where great mirth and hilarity was had by all! Rob also arranges for the group and enjoys that immensely. He says, "Mastersingers continues to be a very special part of my life."
---
1st Bass/Baritone – David Kaye
David lives near Holmfirth, Huddersfield and has been with The Mastersingers for about 7 years. He has been singing for longer than he can remember including Bradford Cathedral as a boy and Huddersfield Singers as principal bass. Now he sings for New Mill Parish Church choir along with Maestro Jim. He is a primary school head teacher and loves all sorts of music, especially prog rock and the 70's supergroup Yes!! He can be regularly found, feet stuck to the floor, in the Holmfirth Picturedrome listening to anything from punk to funk! David's favourite Mastersingers track is "Don't Stop me Now" although the new Australian pieces are pretty good too. His most memorable concert was in Puivert in The Pyrenees, France. "We were on top form that day and the sight of the mountains and the lake through the church door was something special". "I was amazed to get a call one day to have a sing with The Mastersingers and more surprised to end up being a full member, a real privilege, great fun and a great bunch of people."
---
2nd Bass – James A. Morgan (Durham Jim/Jim 2)
Jim went from his role as Head of Music Department in a York school to the Guildhall School of Music and Drama. He sang with cathedral choirs in London as well as with the BBC Singers. He toured Europe and the USA as a member of the Deller Consort and broadcast as soloist with BBC Radio Orchestra in Songs from the Shows. He lives in Durham and works as a singing teacher there as well as in Paris and London.
---
2nd Bass – Duncan Brown 
Favourite track – "Still learning, but any of the close harmony numbers – Here to Stay, Duke Ellington, Kings of Swing……."The new kid on the block, Duncan has been singing ever since Alan Woods (then a newly qualified teacher in Durham) nagged him into joining his school choir and the Durham County Youth Choir. That led to a stint in the National Youth Choir (where he met Roger) and with the Sterndale Singers whilst at university in Sheffield. This was followed by a move to London where Duncan sang with Kingston Choral Society. Work brought him back to Durham where Duncan sang as a 2nd Bass and soloist with the Durham Singers. In 2012, Roger invited Duncan to a Mastersingers concert (the same one mentioned by Michael 2) and met the group. As a result, Duncan was asked to deputise at a number of Mastersingers concerts, and gained his wings in December 2013. When not singing, Duncan's other passion is building and flying kites, and is currently a member of the North East Kite Fliers. Favourite concert – "Not many to choose from………yet! Hopefully I won't get found out for a few more years so ask me then!"
---
2nd Bass – Jon Sims
Jon's singing career began in his home county of West Yorkshire in 1981 when he joined Holmfirth Choral Society and Honley G & S as a 2nd Bass. He spent several years studying singing, competing in competitions in Northern England and in 1983 he joined The Huddersfield Choral Society and later West Riding Opera Company. Jon performed several operatic lead roles and solos during this time before joining The Mastersingers in time to record their first solo album 'Softly' in 1995.
"Singing with The Mastersingers is always challenging and demanding but never feels like it – that's got to be a good thing!
Best musical experiences?.. : the BBC Proms gig at Heaton Park; recording at Abbey Road studios; but best of all the French tours in beautiful chateaux and churches, with a sprinkling of sunsets, stars and Calvados – absolute bliss!"
---
Co-Director, Drums/ Bass voice – James W. Morgan (Maestro Jim/Jim 1)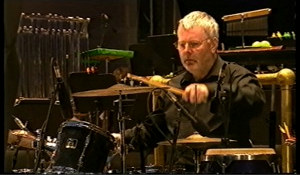 Jim 1 was born in Willenhall, Staffordshire. He studied at Huddersfield, the RNCM and in Indiana. He joined Mastersingers as Percussionist in 1994 and has risen through the ranks to become Director, Writer, Arranger, Bass-Baritone and occasional soloist. Jim also conducts the Holme Valley Orchestra who have joined forces with Mastersingers on a number of occasions – for Alan Woods's 'This Joyous Night' and for new orchestrations of Fauré's 'Requiem' and Stainer's 'Crucifixion'. He was also Musical Director when Mastersingers broadcast the Daily Service several times on BBC Radio 4. 'It's difficult to say which my favourite piece is, as I wrote most of them!' he says, 'But I do much prefer singing to playing.'
---
Piano – Mark Griffith

Mark lives in Sunderland and was taught piano by his father from an early age. Music has always played a significant part in his life and this ultimately led to him studying music at Huddersfield before moving on to complete a PGCE at Manchester. Mark has taught music in the North East for twenty four years and has assumed the role of accompanist for The Mastersingers after deputising for the regular pianist on a number of occasions. "Accompanying such an excellent group of singers and playing such fabulous arrangements is a great pleasure and it would be far too difficult to choose a favourite piece!"
---
Double Bass – Robin Simmons
Despite having been The Mastersinger's double bass player for over 20 years, Robin's first instrument was actually the cello, which he played with many orchestras, quartets and ensembles throughout his school and university years. As a teenager he played piano with the school jazz band until, after just one rehearsal, it was politely suggested he might be better suited to an instrument he'd never played before – the double bass. This turned out to be a good move (mainly for the band, but also for himself), and led to performances across the country at venues such as The National Theatre, the West Yorkshire Playhouse, the Royal Albert Hall, and a car park just off the A64. At around the same time, Robin started to provide a double bass accompaniment to his parents' folk duet in their regular vocal performances across the North of England, and it was as a result of playing in that trio (aided by the convenience of sharing a lift to the concerts) that Robin's father, Alan Simmons, asked him to join the Mastersingers. In the 20-odd years since then, Robin has enjoyed providing the bass line from his quiet position at the back of the band, but he still secretly wonders whether, one day, he might be good enough to play piano in the jazz numbers…